5 things to do on Veterans Day in Miami 2019!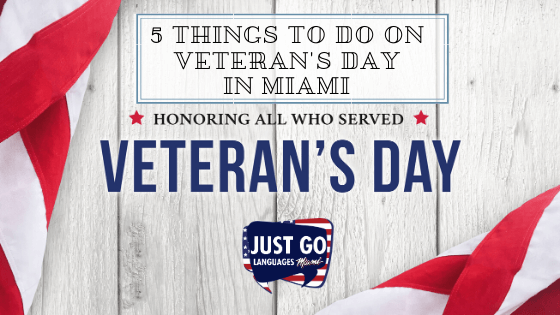 Veterans Day in Miami
5 Things to Do
By Analiz Guzman, Nov., 2019
Word to Know:
Veteran: (noun) 1. A person who has had long experience in a particular field.
2. A person who has served in the military, a retired soldier.
Every year on November 11th, Americans nationwide gather together to honor and thank the brave military soldiers who have served the United States Armed Forces in all wars. This holiday is also known as Armistice Day. We honor our courageous retired soldiers with a long, 3-day weekend filled with picnics, barbecues, church services, parades and more! In many places, the American flag is hung at half mast as a display of respect and it is common for a moment of silence to take place at 11 AM.
Our International F1 Visa Students who our blessed enough to study and live abroad in Miami will be celebrating Veterans Day weekend like true Americans. This city offers so much to do!
   1. Town of Miami Lakes Veterans Day Parade on Nov. 10 | 10 am – 12 pm
       6075 Miami Lakes Drive / Miami Lakes, Florida, 33014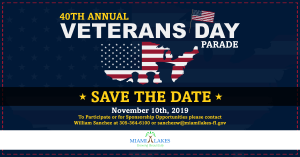 Heave over to Main Street on Ludlan Road! It's been 40 years since the Town of Miami Lakes has been saluting and honoring veterans. In fact, this is the longest running parade in all of Miami-Dade County. The town's 40th Annual Veterans Day Parade will take place on Sunday, November 10th from 10 AM to 12 PM and can be viewed from several locations along Ludlam Road. The parade starts from Bull Run Road and ends in Eagles Nest. So dress in red, white and blue to come wave your American flags in support of both our retired veterans and active-duty military in this incredible parade!
      2. Village of Pinecrest Veterans Day Commemoration on Nov. 11 | 11 am – 1 pm
11111 Pinecrest Parkway / Pinecrest, Florida 33156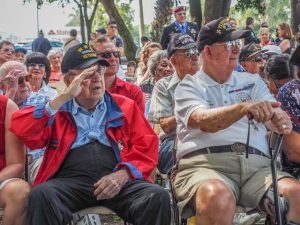 Get your most patriotic colors on and honor those who serve at Village of Pinecrest where you are invited to salute brave Veterans and Gold Star Families. This fun event will feature an impressive Honor Guard presentation, music and a complimentary picnic lunch!
      3. North Miami Veterans Day Ceremony on Nov. 11 | 10 am
          NE 123 Street & West Dixie Highway / North Miami, Florida 33161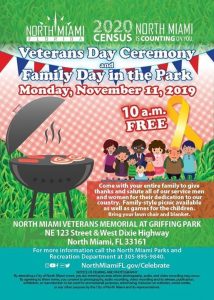 It's Family Day at Griffing Park! Bring your entire family to this Veterans Day Ceremony. Come thank and salute all of America's military service people for their dedication to our country. This family-friendly event will have a picnic and games for children. Don't forget to bring a lawn chair and blanket!
      4. Doral Veterans Day Parade and Ceremony on Nov. 11 | 10 am
          3301 NW 107 Ave | Doral, Florida 33166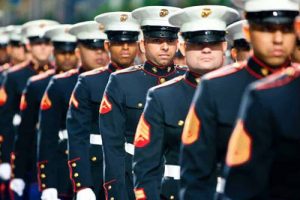 The city of Doral invites you to join them in observing Veterans day at their annual parade and ceremony. The parade will begin at the Aloft Hotel Parking Lot where it will head eastbound along 33rd street towards Veterans Park where it will end at 10190 NW 33rd Street. Here, the parade concludes with a ceremony to honor all those who have battled for our country. The ceremony will feature special speakers and the unveiling of the Vietnam Battle Cross, the first and only memorial for Vietnam veterans in Miami Date County.
      5. Miami Beach Annual Veterans Day Parade on Nov. 11 | 11:11 am
         1130 Ocean Drive | Miami Beach, Florida 33139
The Boucher Brothers and Miami International Auto Show will be presenting the City of Miami Beach's 11th annual Veterans Day Parade. So come dressed in red, white and blue to honor our American heroes as you celebrate along the shore side. Miami Beach proudly hosts the largest parade of the day in all of South Florida which takes route on the iconic Ocean Drive starting on Fifth street and making its way 13 streets down. The parade will end at about noon at Lummus Park which will be followed by even more festivities. Join Miami Beach after the parade for a family picnic, wreath-laying ceremony and an all-veterans parachute team that you can watch fly high and display their bravery with exhilarating landings. It will be quite a show! Don't miss it!
For more Veterans Day events in Miami and to find some great, local holiday deals, click here!
To learn about more things to do in Miami, visit the Student Center at JUST GO LANGUAGES, 420 Lincoln Rd #324, Miami Beach, Florida, 33139 or call us at +1 (305) 534-1255 or email us at info@justgolanguages.com   www.justgolanguages.com