Pathway to Millennia Atlantic University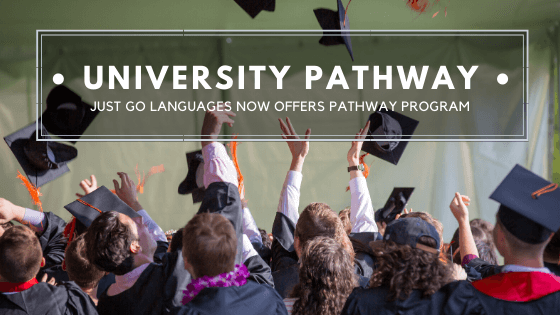 Business University Admission for English Learners
November, 2019 By Analiz Guzman
JUST GO LANGUAGES and Millennia Atlantic University proudly join forces to grant International F1 Students the opportunity of a lifetime. Have you ever dreamt of higher education, but just know your English fluency is not up to par? Dreaming of a career, but dread college entrance exams?
Now, students who complete the Advanced English Program at JUST GO are eligible for admission into any of Millennia Atlantic University's Business Programs. That's right! Achieving completion of the Advanced English Program at JUST GO meets the English proficiency requirement at MAU! Enroll at JUST GO, where you can improve your English to prepare you for higher education, then get your JUST GO certificate to bypass the TOEFL/IELTS exams at MAU and get into whichever business program is right for you! Get the career in business you dream of!
Millennia Atlantic University, home of the Macaws provides both undergrad and graduate students with an international business curriculum to help propel you toward your academic and career goals. MAU offers Associates, Bachelors and Masters degrees in Human Resource Management, Accounting and Business Administration to help advance your career to new heights!
To learn more about our pathway programs, visit the Student Center at JUST GO LANGUAGES, 420 Lincoln Rd #324, Miami Beach, Florida, 33139 or call us at +1 (305) 534-1255 or email us at info@justgolanguages.com   www.justgolanguages.com