9 tips for your first day of class!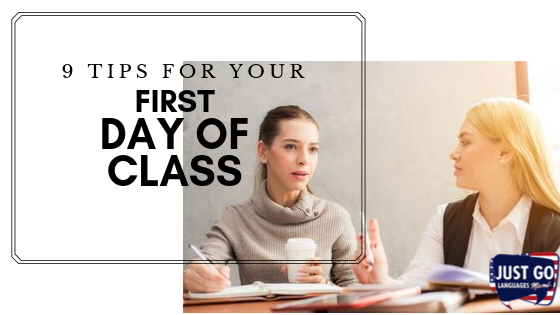 9 tips for your first day of class!
Whether you are an advanced English speaker or a beginner, the first day of school can be exciting and nerve-racking for everyone. Here are some tips to get you started on the right track.
Be Early Arrive 5 minutes early for class. Whether inside or outside the classroom, let the other students or teachers know that you are ready to talk with them: smile, nod, make eye contact and chat
Look Around You Take a time to look around you, get used to the environment. You will realize that English is all around you. On your way to class, listen to English music or a podcast. Start to train your mind and ears to hear so that you'll become familiar with the language.
Get To Know Each Other Speak in the class, but of course in English. Remember, you will learn as you speak. Talk to your classmates
Participate Are you shy? Take a few deep breaths before you raise your hand to speak. Remind yourself that you are prepared and that you have something important to say or ask.
Bring some snacks Bring chocolate, a mint, or piece of candy- this releases endorphins which will calm you down.
Ask Questions Don't be afraid to ask questions. It is essential for your learning and growth. Let your teacher know when you don't understand. We are here to help you!
Talk to Us Talk to anybody at JUST GO, what skills you would like to improve. There are four skills (reading, writing, listening, speaking). Figure out what your strengths are and what skills can be enhanced.
Be Present- When you're in the class be fully present. That means no cellphone, speaking another language, and disrupting the class.
Be Prepared – Bring your books and an open mind. Make sure you do any homework when you go home that night so you can ask questions the next day!