13 Kid-Friendly Activities to do in Miami in 2019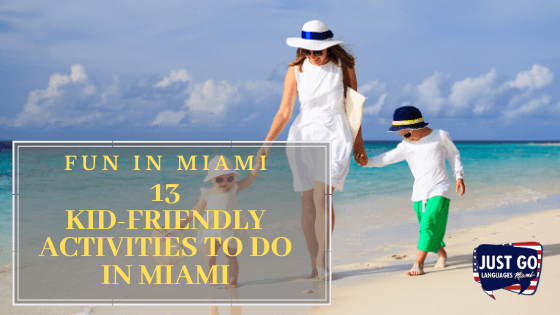 13 Kid-Friendly Activities to do in Miami
By Analiz Guzman, Oct. 2019
When our F1 International Students study abroad in Miami Beach and bring their kids, there's no limit to the activities they can do together. We understand the importance of spending quality time with your children and family. Luckily, the Sunshine state of Florida offers a plethora of kid-friendly activities, especially within our vibrant city of Miami!
Miami has warm, sunny temperature for most of the year which makes for perfect, beach weather year-round! But there's so much more to do in Miami than just enjoy the sun, sand and waves. We're going to take you beyond the beach, to boats, pools, parks, museums, animal encounters and more of all of South Florida's hot spots for kids' entertainment!
Zoo Miami – South Miami Heights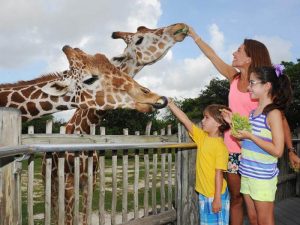 However many times you've taken your family on a trip to the zoo, we promise you won't find another zoo like Zoo Miami! Zoo Miami is the only subtropical zoo in the continental U.S. meaning that you will find here a variety of species often not seen in any other American zoo. These 750 acres of land is home to more than 3,000 animals including elephants, rhinos, hippos, gorillas, crocodiles, and so much more! If it's too hot of a day, you and your kids can take a break on the splash pad and rest your feet while sitting on a carousel!
Frost Museum of Science – Downtown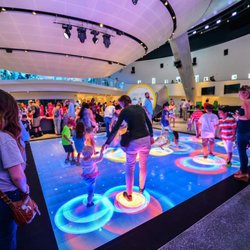 This 250,000 square-foot museum is made up of four buildings ridden with fascinating exhibits for your children to learn and explore. Peek into the mind of Leonardo da Vinci at his Inventions exhibit where you can see life-sized machines imagined by his very own brilliance! Afterward, your child can design inventions of their own at an engineering lab. This museum also has a STEM-campus which includes an aquarium and incredible planetarium which you can learn about our galaxy or simply enjoy a neat laser music show!
Miami Seaquarium – Virginia Key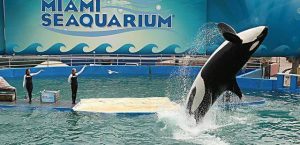 Aquatic animal lovers alike gather around Miami Seaquarium to swim with seals and dolphins, interact with penguins and investigate other sea creatures at the touch pools. Here you can find other animals such as flamingos, sea turtles, sea lions, manatees and a glorious killer whale. If you want a scuba diving experience, you can walk on a tropical reef in a special underwater helmet at the Sea Trek Reef Encounter. If your kids happen to be skittish around water, there's plenty to do on land at the pirate playground! Arrrrr!
Flamingo Park – Miami Beach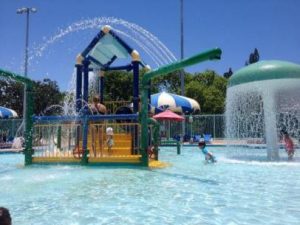 This park is known for keeping locals, tourists, international students and their families active with their playground, fitness structures and aquatic park. The aquatic area within the park includes a kids' splash area, pool, mushroom-shaped water fall and an aquatic playground equipped with slides, a swing and lots of fountains! Again, kids who are skittish around water have plenty to do within the park at the dry playgrounds and climbing wall!
South Pointe Park – South Pointe
Head to the most southern point of South Beach where you can enjoy watching big cruises pass on the on the ocean while the kids play on a cool, shaded playground or on the splash pad! Don't forget to take a selfie at the famous South Pointe Park pier!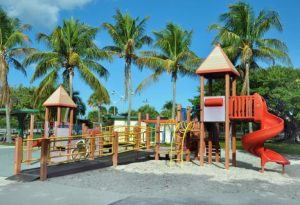 Key Biscayne has several activities that you can take your children to! Crandon Park has calm, pristine waters and cabana rentals for adults to relax and for the kids, there's a beach playground, carousel and roller rink – not that there is any age requirement to enjoy these things. Adults can have a ride around the carousel too! There is also a family amusement center for everyone to enjoy and a nature center for everyone to explore.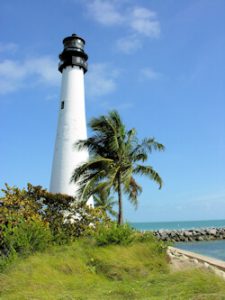 For even more beach time, hiking, bike rentals and a lighthouse tour, visit Bill Baggs Cape Florida State Park. If your kids meet the 42" height requirement, then they can climb up to the very top of the historic Cape Florida Lighthouse to check out some marvelous views!
Miami Children's Museum – Watson Island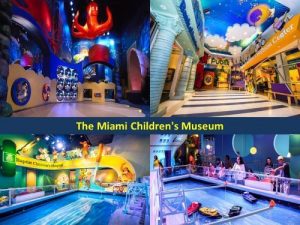 The Miami Children's Museum has all the traditional elements of your usual kids' museum but with a Miami flare! This museum offers a local touch by including unique elements not normally found in your typical museum such as a cruise ship exhibit, marine tanks demonstrating South Florida's wildlife and many options for outdoor activities. Have your children learn about the economy and finances as they walk through a giant interactive piggy bank that teaches them about money. There is a 'maker space' reserved for your children to get creative through the elements of art. If your kid is the athletic type, put their bodies to the test at the health and wellness center where they can play virtual sports!
Jungle Island – Watson Island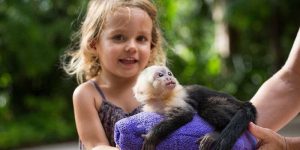 It doesn't get more tropical than this! Get up close and personal with sloths, parrots, lemurs, kangaroos, orangutans and more at Jungle Island! Here families can enjoy the petting zoo, playground and lots of live shows featuring spectacular animals, tricks and entertainment! If your family is adventurous, they can take a ride down a 600-foot zip line or hover midair down a wind tunnel at the SuperFlight Experience. Does your family like solving puzzles? Team up together and unlock the doors at the tricky Jungle Cabin Escape Room.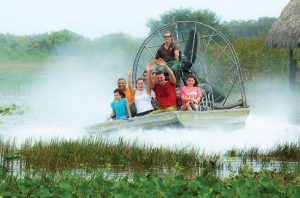 The Everglades is Florida's famous National Park, intriguing swamp lands ridden with alligators and inhabited by indigenous people who are happy to teach your children about their unique tribes and culture. Take an airboat ride through the preserve's sawgrass mangroves ans see how many alligators, birds, and turtles you can count along the way!
Spun Candy – Midtown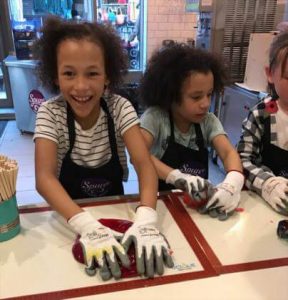 Treat your family's sweet tooth at this divine candy shop where you can sample handmade fudge and lollipops as well as get a hands-on cooking experience! Spun Candy has family friendly workshops where you and your children can learn the science and art behind making the deliciously sweet candy that they enjoy so much! Then they can apply what they've learned to make their own!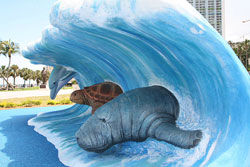 This playground is sea-themed making it a fun, oceanic experience for all ages. It has a boat play structure, bouncers, slides and more!
Fun Dimension – Wynwood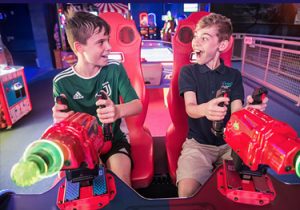 If it's a rainy day and you're looking for some indoor entertainment, FunDimension is a three-story 15,000 square-foot family entertainment center that features a playground, 7D theater, bungee jumping, laser tag, and neon bumper cars that illuminate and spin! Are your kids a fan of Imagine Dragons? Then here's a fun fact for them! The music video for their son "Zero" was shot here!
Safari Edventure – Princeton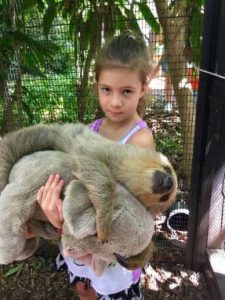 This is a small animal sanctuary and educational facility that cares for at least 100 different animal species. What's even more fun and unique about this place is that it allows your family to get hands-on with over a dozen animals! Your kids can hold an alligator, snuggle a sleepy sloth, pet a kangaroo and more! Additionally, this is a special animal encounter experience because these are not animals who were taken from the wild and put into captivity, but animals that were rescued or rehabilitated or born to parents who were.
To learn about other child-friendly activities in Miami, visit the Student Center at JUST GO LANGUAGES, 420 Lincoln Rd #324, Miami Beach, Florida, 33139
www.justgolanguages.com