Our 4 Favorite Miami Libraries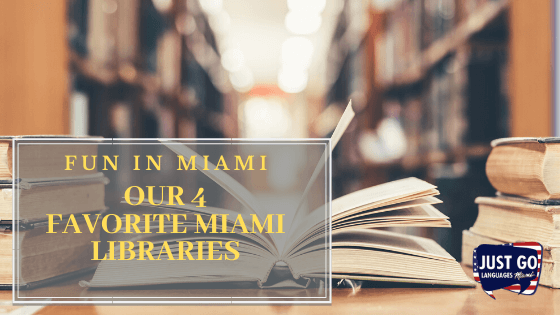 Our 4 Favorite Miami Libraries
By Analiz Guzman, Oct. 2019
They say libraries are dying out and that with the new age of information technology, we don't need brick and mortar place to research. We at JUST.Go – Languages disagree. Libraries are extremely useful! They are especially beneficial for those F1 International Students looking for a quiet place where they can study and focus on their English! Reading is a great way to become familiar with new English phrases and more interesting sentence structures. Get a library card and take home a few new books and resources while you're at it! If you're not into reading, the library is also a great source of entertainment with computers, audio-books, DVDs and more!
Main Library – Downtown Miami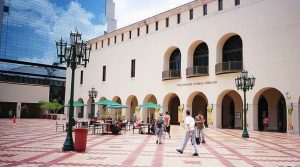 In the heart of the neon downtown Miami, one can find our main public library. It is just a few steps away from the Metrorail and many bus stops so you can easily get her via public transportation. If you're studying abroad with your child as a dependent, take them along. There are activities for kids of all ages! The Talking is Teaching program for toddlers and preschoolers will keep your tiny tots entertained through singing, stories and other activities. The Bass Museum of Art hosts a Creativity in the Community program geared for young children from the ages of 2 to 8. It happens every Saturday and kids get free storybooks and art supplies! If your kids are on the older side, there are a few Teen Clubs that cater to their possible interests such as gaming, anime and more!
West Dade Regional – Miami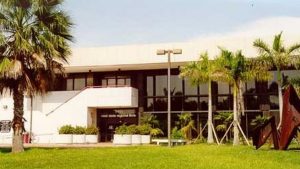 Just like the Main Library, this Westchester-area library offers a plethora of programs that help young minds fall in love with reading, including the Talking is Teaching program for toddlers and preschoolers. In addition to this program and its extensive children's books area, it also has a 10-week Baby and Me series for parents and infants, Yoga with Kids for ages 6-14 and some unique events to keep an eye out for! Popular events include the May the 4th Star Wars celebration, Mother's Day movie night and even an Edible Book Contest! That's right! A book you can eat!
South Date Regional – Cutler Bay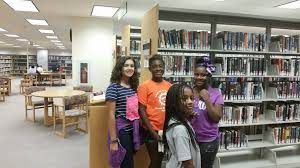 Across from Southland Mall is Cutler Bay's massive library. Kids can get lost exploring it's incredibly huge children's section with centers for browsing, reading and playing. The library is equipped with a treasure trove of technology resources that teens love including the YOUMedia programs where one can take classes on digital design, starting a podcast, gaming, writing, music production and so much more! Other kid-friendly activities include Family Storytime, Movie Matinees and Talking is Teaching.
JFK Library – Hialeah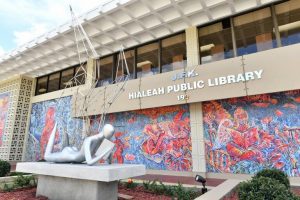 We saved the best for last on this list. JFK library is really the most beautiful library in South Florida. The John F. Kennedy library, dedicated to the nation's 35th president, is the main central library of Hialeah's 7 neighborhood branches. The library features two stories of non-fictional resources, fictional masterpieces, a large children's section equipped with computers, young teens section, two computer labs for adults and a large section dedicated to audio/video. The library has an events calendar full of activities such as reiki and yoga classes, guest speakers, health workshops and lots of fun activities for kids! In addition, the library also serves as a work of art in it of itself as the walls are plastered with canvas paintings, murals and the building is surrounded inside and out with beautiful sculptures.
To learn about more Miami libraries, visit the Student Center at JUST GO LANGUAGES, 420 Lincoln Rd #324, Miami Beach, Florida, 33139
www.justgolanguages.com