11 Hottest Miami Parties!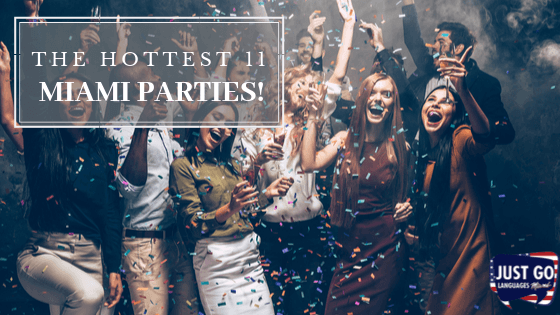 11 Miami Parties
There's one for Each Day of the Week!
By Analiz Guzman, Oct. 2019
You're here to study abroad, but that doesn't mean you can't have a little fun! Be sure you make some time to party and play while you're here to study and live in Miami.
Monday: Industry Night with Jarobi White
Tuesday: WALL'S Favela Beach Party
Wednesday: My Boyfriend is Out of Town Party, Bodega
Thursday: The Anderson, La Rumba
Friday: Basement Miami, Floyd Miami, Komodo Lounge
Saturday: Komodo Lounge, Floyd Miami, Hyde Beach
Sunday: Nikki Beach, Salsero Sunday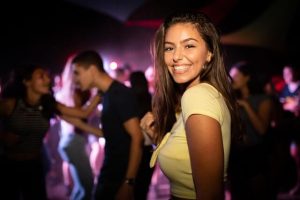 Industry Night with Jarobi White (Monday)
1-800-Located on 143 NW 23rd st in Miami has poppin' parties every night from Latin Night on Wednesdays to Ladies Night on Thursdays and all-night parties until closing on Saturdays! Their most recent party lineup though is Industry Night with Jarobi White every Monday night from 8PM – 3AM. Best of all? The event is free!
WALL'S Favela Beach Party (Tuesday)
Every Tuesday night, partiers gather at 2201 Collins Ave for WALL's Favela Beach party, Miami's longest running Tuesday night rendezvous. Miami has been a magnet for Hollywood celebrities to come let their hair down for a good time. Rumors have it that superstars like Jennifer Lopez, Leonardo DiCaprio and Justin Bieber have been spotted at the infamous getty! Hotel guests and ladies get in for free, but cover can range from $20-50.
My Boyfriend is Out of Town Party (Wednesday)
The name of this party says it all, ladies. Visit Bâoli at 1906 Collins Ave on a Wednesday night for the ultimate girl's night out. Sip on some champagne with your friends while you enjoy live famous DJ performances. You might spot a few stars in this party too! This party embodies Miami nightlife and best of all, it is free!
Bodega (Wednesday)
Bodega, located at 1220 16th st., is a great venue to visit, enjoy the nightlife with good food, music and dancing! Wednesdays are special as you can enjoy live music starting at 10PM and drink specials from 8PM until midnight. Admission is free!
La Rumba (Thursday) & Salsero Sunday (Sunday)
Enjoy La Rumba every Thursday for at 9PM at Ball & Chain, a beautifully restored, must-see Cuban club from the 1950s. It is located at 1513 SW 8th St. No need to know how to dance, you'll learn at the party! Not only can you party for free, but you can come and take some complimentary rumba and salsa dance classes while you're at it!
Additionally, you can return on Sunday to Ball & Chain to celebrate Salsero Sunday from 6PM – 1AM and take another class to brush up on your dance moves.
The Anderson (Thursday)
Do you like buy-one-get-one-free drinks and live music? Then you won't regret visiting The Anderson at 709 NE 79th St. on a Thursday night. Admission is free!
Basement Miami (Friday)
On Fridays at 10PM, visit 2901 Collins Ave to kick off the weekend with a banging party featuring a rotating DJ!
Komodo Lounge (Friday & Saturday)
Every Friday and Saturday at 10PM, Komodo's third floor transforms into a weekend dance lounge with live DJs, performers and a full bar. It is located at 801 Brickell Ave.
Floyd Miami (Friday & Saturday)
If you're the type to party until the sun comes up, then you must hit up Floyd Miami on Fridays and Saturdays from 11PM – 7AM at 3 NE 11th St, Suite B.
Hyde Beach (Saturday)
Party all night Friday and continue into the next morning at 10AM where you can enjoy the pool, champagne showers, nitrogen blasts and house music at 1701 Collins Ave.
Nikki Beach (Sunday)
Every Sunday, all day at 1 Ocean Dr., you can find South Beach's most famous and iconic day party where the entry is free, but brunch is $49.95.
To find out where else to party in Miami, visit the Student Center at JUST GO LANGUAGES, 420 Lincoln Rd #324, Miami Beach, Florida, 33139
www.justgolanguages.com