7 Fun & Free things in Miami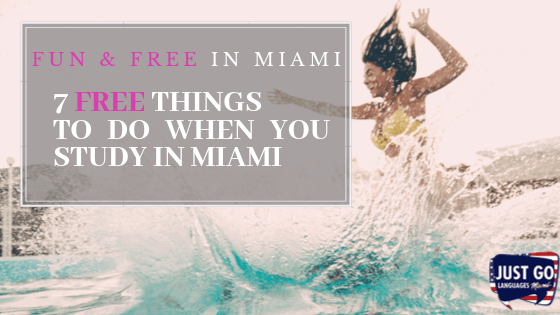 7 things to do when you live and study in Miami
Discover the fun without breaking the bank!
By Analiz Guzman, Oct. 2019
Living and traveling in Miami can quickly become an expensive adventure! We want to make your time here easier, fun and affordable! While you study abroad in Miami, here are some activities you can do in the sunny city for zero dollars:
Ride the Metromover & Trolley System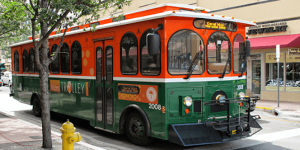 From trolleys to rail mover systems, did you know that Miami is full of free transportation for all? Residents and visitors take advantage and travel around the city without killing their feet or the gas-tank! Use Miami's Trolley System to get around. Even the City of Miami Beach has their own Citywide Trolley System. When you're done checking out the trolley systems, get on the Metromover and explore the downtown Miami from a new point of view. And best of all, all of the free public transportation systems listed above are equipped with air conditioning so you can take a break from walking in the heat!
Free Tacos and Pizza!
The natives here love to take advantage of free eats! Which is why you'll wait in line for some free tacos, but it will be well-worth the wait! Every Tuesday from 6-9PM, Wood Taverns serves free tacos to anyone buying drinks at the bar! If you're still craving some good free eats later in the week, then head your way over to The Wharf on Thursdays where you and your friends can score a free pizza with every drink purchases from 12PM – midnight!
Get into shape! Exercise & Dance!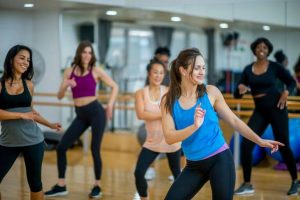 After all that free food, you may need to burn some calories!
Explore some of Miami's most beautiful parks where you can get free boot camp classes taught by local veterans once a month. This Coca-Cola Troops for Fitness Program can be found in these 6 parks: Gratigny Plateau Park, Gwen Cherry Park, Tropical Park, North Trail Park, South Dade Park, and Live Like Bella Park.
Get in shape right here in Miami Beach on Lincoln Road! Meet your pilates specialist every Saturday at 9AM on Euclid Ave and Lincoln Road.Do you enjoy dancing as exercise? Then join on stage at 1100 Lincoln Rd every Tuesday at 6PM for Zumba #OnLincoln or for Open Air Tango which takes place on the 4th Wednesday of every month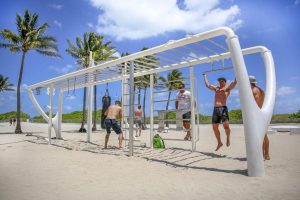 Additionally, the city's parks are full of free outdoor gym equipment that anyone can use to stay in place while living and studying in Miami Beach, Florida.
After all that working out, your body is going to need a good stretch! So be sure to join Lincoln Road's community yoga class on Wednesdays at 6PM and Warrior Flow Yoga on Sundays at 10AM on the corner of Euclid Ave & Lincoln Road. Yoga is not only good for stretching, but it is a workout in it of its own to help build strength, balance and flexibility. You can find free yoga daily in Miami! Click here to find more free yoga classes throughout the city of Miami.
Watch a Movie or a Concert!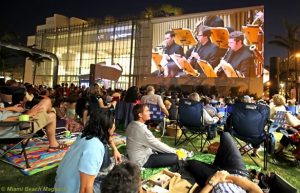 Do you like classic music and classic movies? The New World Center located only a few blocks from our campus at 400 17th St, Miami Beach, Fl, 33139 not only plays its concerts on the front wall of its beautiful performance hall, but as part of a Soundscape Cinema Series, it also projects classic movies like Ghostbusters for anyone to watch. So bring a blanket, some snacks and a friend to join us for free movies at Soundscape Park every Wednesday at 8PM!
Enjoy Live Music Nightly!
Let's face it. Speakers get old. There's nothing like the sound of live music playing hitting your ear drums. Miami has several options for free live music for you to enjoy gengres from reggae, hip-hop and r&b to pop and classical music!
It doesn't get more Miami than Bayside Marketplace; luxury shopping stores, yachts, waterfront bars/restaurants and fascinating people. The Marina Stage has daily live concerns with everything from Brazilian and Latin tunes to pop, rock, fun and more.
Gramps is a great venue in Wynwood, plastered with art where you can find live music in a cozy, intimate back room.
Visit Ball & Chain and transport yourself to 1950s, Cuba where you can enjoy a beautiful and vibrant venue with live music, food and drinks! This historic jazz club which has been restored into one of the best venues in Miami hosts over 80 hours a week of free concerts in the back patio where you can enjoy watching and listening from a giant pineapple! You'll have to go to see what I mean!
If Reggae is your thing, you can vibe out to these sounds every Sunday from 2PM to midnight at the Wynwood Yard.
You can also often find performers of all kinds flocking nightly toward our very own street, Lincoln Road! Enjoy the live music as you stroll through the famous Lincoln Road in Miami Beach, Florida.
Enjoy Art!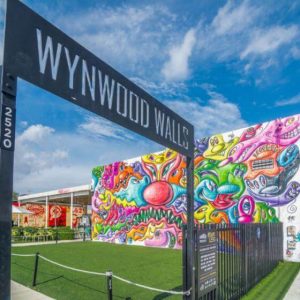 Wynwood, Miami's famous art district is known for its many colorful murals. It is free to enter and enjoy the beautiful artwork at the Wynwood Walls. We recommend visiting it at least once while you live and study in Miami. You can even rent a bike for one hour for free every Sunday at 11AM. Sign up here and grab a friend to take a bike ride through town with. You won't regret it.
Miami also has a plethora of museums that you can visit for free! The MDC Museum of Art and Design, in The Freedom Tower in Downtown Miami, and the Institute of Contemporary Art in the Design District are always free. So is the David Castillo gallery located in the same hallway as us! Or you can hit the Perez Art Museum for free admission on the second Saturday of every month, and if you're a member, get free drinks, access to the galleries, and live music on Third Thursdays. Friday nights at the Wolfsonian are free from 6-9pm and include films, talks, and drinks specials.
There is also plenty of public art to be discovered all around the South Florida, from Hialeah to Downtown and Brickell to Miami Beach; we live and breathe an atmosphere of art!
Catch a Comedy Show!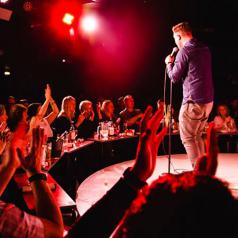 Who knew Miami had so many places to watch comedians for free?! The Yo Space and Gallery has its monthly 'Just the Tip Comedy Show' the first Sunday of every month. 305 Brews has weekly event called Miami Comedy Mondays. And Wynwood's Concrete Beach Brewery has a recurring Last Call Comedy Show on the last Tuesday of every month.
To find out what more there is to do in Miami, visit the Student Center at JUST GO LANGUAGES 420 Lincoln Rd #324, Miami Beach, Florida, 33139
www.justgolanguages.com